I love Messi and my shirt says Messi loves me
Afghan boy Murtaza Ahmadi replaces his plastic bag " Messi 10″ shirt with a signed Messi top
To recap, in recent months, a picture has gone viral of a young boy in a home-made plastic Argentina 10 Messi shirt.
The picture appeared to evoke just how popular Leo Messi is throughout the globe and so touched were many by this image that an online social media campaign began to find the youngster.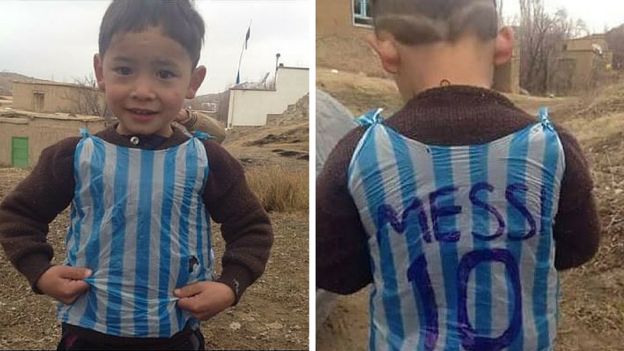 The picture started to go viral in the middle of January, with a youngster in Iraq initially hailed as the boy in question.
This was quickly debunked as it turned out to be a youngster from Afghanistan. The real boy is five-year-old Murtaza Ahmadi from a rural area in Afghanistan.
It had previously been reported by Argentine Sports website TYC, that Messi and his entourage have got in touch with Murtaza and are setting up a meeting between the pair.
Whether that meeting ever happens is unclear, but today we have an update of contact between the parties.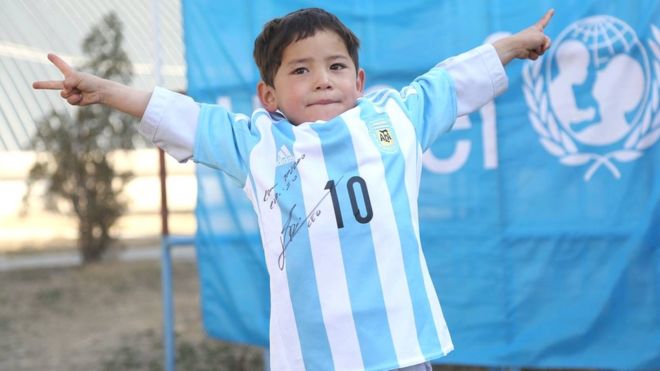 With help from the BBC and Unicef, Murtaza Ahmadi has now received a new, signed Leo Messi Argentina shirt.
The youngster has also told the BBC:
I love Messi and my shirt says Messi loves me.
http://www.101greatgoals.com/